Robert Palmer
Robert Palmer was intrigued by every aspect of music and the music-making process.
His passion for singing meant he never felt he had to work – rather, he felt deeply blessed to be able to do what he loved day in day out and make a living from it. It was his joy, and he never wanted to stop.
He used music to tell stories, ranging from calypso and reggae to big band and pop, from rock and blues to funk. In an interview for Yorkshire television shortly before he died, he said, "If I want to be humorous, I do a calypso; if I want to scream implications at the sky, I get out the heavy metal guitars; if I want to whisper in my girlfriend's ear, I bring in the strings. I love music across the board, barring Broadway show tunes and opera, which are over and under my head; I like to use music as a means of expression." Robert spent his career using these wide-ranging genres to express himself, and he did so for almost 40 years.
Born Robert Allen Palmer in Batley in Yorkshire, England, on January 19th, 1949, he grew up in Malta on an army base where his father, a naval intelligence officer, was stationed. "I was a navy brat, grew up in Malta listening to Lena Horne, Peggy Lee and Nat King Cole on the American Services Network."1 Being close to the Tunisian coast, the radio also picked up African music, which he loved, and the music he heard in these early years would inspire him throughout his life.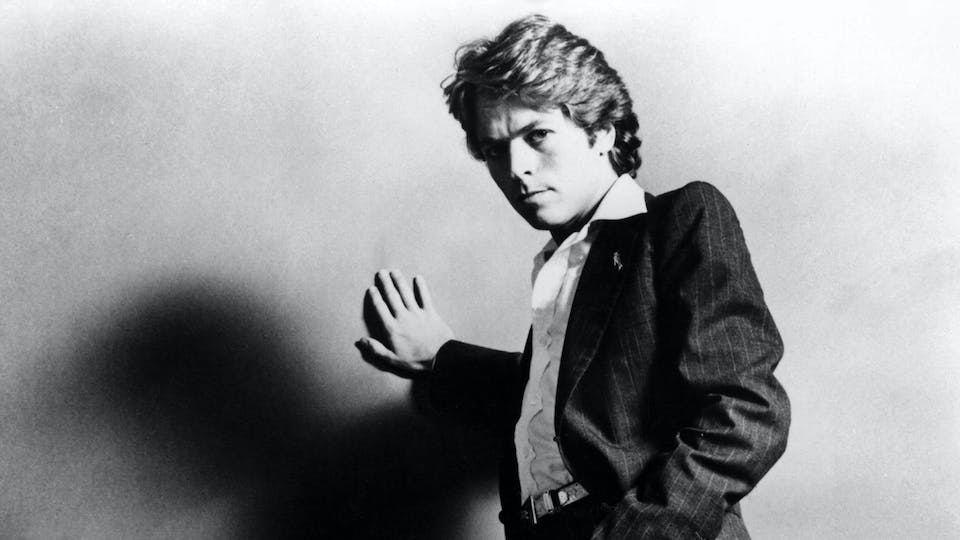 Robert wanted to let the music he created speak for itself. This, in part, is where the suits came in – he saw himself as a musician, his voice his instrument over and above anything else. He thought stage outfits could be gimmicky, and creating an on-stage character or persona wasn't for him. He wanted the music to shine through without anything getting in the way. Growing up surrounded by military uniforms, he thought a simple suit – his uniform, would mean the focus would be firmly on the music. "I just always felt comfortable in a suit and tie," Palmer said. "It's served me well, because I never got aligned with any fashion trend."2 This, of course, backfired as he became iconic as much for his beautifully tailored suits as for the music itself.
He returned to the UK from Malta and studied art at Scarborough High School. He enjoyed art and went on to study graphics at Scarborough School of Art & Design, but he found the education system stifling. He felt that it limited him creatively, wanting him to conform too much and allowing him to experiment too little. It was at Scarborough High in 1964 that his first band The Mandrakes was formed. Robert (aged 15 and known by his middle name Allen) sang lead vocals and wrote several songs for the band. He was shy about performing when he first started and would sometimes sing with his back to the audience to deal with the nerves.
His confidence grew as the band played at clubs, universities, and festivals and supported acts such as The Who, Jimmy Hendrix, Fleetwood Mac, Traffic, and Fairport Convention.
In 1970 Robert married Sue (Susan Thatcher) – an artist and textile designer working in London. They had met at a train station where Sue had caught his eye as she sat reading a Jack Vance novel, Robert's favourite author. Vance's stories became a much-loved part of their life together. One would buy the latest novel, read a few chapters, then tear those pages out for the other to read because they couldn't wait for each other to finish the whole book. Robert loved language and the etymology of words, and like in music, he had eclectic tastes, from poetry and fiction to biographies and graphic novels.
By this time, he had joined The Alan Bown Set (newly renamed The Alan Bown!), a band whose roots were jazz and blues but had evolved into psychedelia and progressive rock. Robert was asked to record vocals for their 1969 single 'Gypsy Girl' when the previous singer had left before their latest album, The Alan Bown! was released. He then re-recorded the whole album with his vocals, and this version was released in the UK. To avoid confusion, he changed his name back to Robert, and he toured with the band and appeared with them on live radio and BBC TV's Disco 2, performing the song 'Curfew'. Although Robert started recording their next album, 'Listen', he left before it was released.
One night at a gig in a packed club where The Alan Bown! were gigging, Island Records founder Chris Blackwell remembers "being taken by a glamorous couple who swept confidently into the venue, looking completely out of place." The couple was Robert and Sue, and that meeting with Chris led to a working relationship that spanned well over a decade, close friendships, and the making of a great deal of exceptional music.
Chris said of Robert that he was "dazzled by his voice" and "endlessly dazzled by his knowledge of music, which seemed to take in everything from obscure jazz to the most cutting edge soul and funk."3
Chris was excited to sign Robert as a solo artist but had to wait while Robert joined the jazz-rock band Dada in 1970 with singer Elkie Brooks and guitarist Pete Gage. Dada then transformed into Vinegar Joe in 1971, and Chris signed them to Island Records. Vinegar Joe released three albums, Vinegar Joe, Rock' n' Roll Gypsies, and Six Star General, but despite being popular at live venues, touring on both sides of the Atlantic, and supporting big acts like The Beatles, The Animals, and Status Quo, they never quite achieved commercial success and disbanded in 1974. It was then that Chris finally signed Robert as a solo artist.
On his first solo album, Sneakin' Sally through the Alley, in 1974, Chris paired Robert with Island musician and producer Steve Smith and engineer Phil Brown. Steve had seen Robert's potential in Vinegar Joe and chose him to work with after Chris had offered him his choice of Island's artists to produce. Chris also gave Robert free rein to work with whoever he wanted, and Steve had connections with many bands and musicians that Robert was into at the time.
Mostly recorded in New Orleans, it features the Meters, Allen Toussaint, Cornell Dupree and Bernard Purdie, Gene Page, and Little Feat's Lowell George. These established musicians weren't sure what to think of Robert initially, but they soon realised he was a genuine talent. "The black musicians quickly noted that Robert was no white English flake." Chris Blackwell remembers.
"He had the kind of confidence that persuaded them to give their all because he felt this kind of company was where he belonged"4.
Looking back, Robert said of Lowel George, "Working with him was great because you'd catch onto a grain of an idea and the next time you looked at your watch, it was a day later and you hadn't done anything but gone with that idea."… "In the meantime, ideas would just fly back and forth. Suddenly, you'd take a left turn and bang, there'd be a song. It was just music, music, music with him. I don't really find anything wrong with the word 'obsessive.'"… "I especially loved the way he played guitar. He had the ability to describe the whole song in a very minimal way. And he had this very surreal sense of humour. He was the real thing."5
With the help of these musicians whom he had so much respect for, Robert crafted an outstanding debut album that has since achieved cult status.
Robert always enjoyed working on his album covers, finding inspiration from art, film, and culture. The cover of Sneakin' Sally featured Robert and Josephine Florent running through a tunnel and was inspired by Jean-Luc Godard's Alphaville. Phil Brown remembers, "The photographer, Graham Hughes, was in front of them, lying down in the back of a pickup truck with his cameras, …Steve drove 50 yards behind in a 50s Chevy – these are the headlights in the photo."6
After making such a good musical connection with Lowell George, Robert worked with all of Little Feat on the recording of his second album, Pressure Drop, as well as the Muscle Shoals Horns and bassist James Jamerson. Little Feat got on with Robert so well that they invited him to tour with them for a stint in the US. Little Feat keyboard player Bill Payne said of that time, "I met Robert while working on the Feats Don't Fail Me Now album in Hunt Valley, MD, in 1975. We sandwiched Robert's Pressure Drop in between the recording of our album. Lowell brought Robert to Maryland to work with us… Robert was the consummate gentleman. He also knew how to have a good time. His appreciation of Little Feat was completely disarming. He was absolutely serious about making music, but there was a joy that came through loud and clear when we all connected."7 Robert said,
"They could have vibed me out of the studios the first day I went in there. But they went the other way and got there early, and it was a reaffirmation in my belief that music is the most effective communication there is."8
The album ranged from the smooth combination of vocals and strings of the opening track 'Give Me an Inch' through African drumbeats of 'Make It Work', and on to the reggae of the album's title track with the cover of Toots & the Maytal's 'Pressure Drop'. 'Pressure Drop' has been covered many times over the years, but Robert's version is considered by many to be the best of them. This eclectic range of styles across his records has become synonymous with Robert's work, accentuated by his unmistakable vocals that have made him so popular worldwide.
Pressure Drop has since been ranked as No. 20 on Mojo's list of the 50 best records released by Island.
These two first albums put Robert on the map, and Pressure Drop has since been ranked as No. 20 on Mojo's list of the 50 best records released by Island. Chris Blackwell recently called these first two albums "Overlooked Island Classics"9.
In 1975 Robert was back in the UK at the studio working on the album cover for Pressure Drop with the photographer Graham Hughes (an image of a naked woman standing on a balcony, inspired by a painting by Edward Hopper) when his flat was flooded. The flat was a right-off, so he and his wife Sue stayed with Chris Blackwell for several months before moving to New York, where Pressure Drop had been made, and so began the next chapter in Robert's life and musical career.
His next album, Some People Can Do What They Like, was released in 1976. Robert was again produced by Steve Smith and accompanied by members of Little Feat, along with Chuck Rainey and Jeff Porcaro. The album charted in both the US and the UK and was the most commercially successful so far. Always keeping things fresh and fans guessing, Robert brought calypso into the mix, including on his version of 'Man Smart (Woman Smarter)' – a nod to how it was originally recorded by Trinidadian' King Radio' in the 1930s.
After a short time in New York, Robert moved to New Providence (regularly called Nassau after the capital) in The Bahamas, where Chris Blackwell was building the recording studio Compass Point. Robert and Sue had Chris' mother as a neighbour, and lived directly opposite the studio. "Robert was like part of the welcoming committee. Even if you didn't necessarily see him, you knew he was there, experimenting in his apartment on all sorts of musical ideas he'd taken from around the world."10
Their house became a hub for musicians and artists visiting the island, always full of energy and creativity.
Robert's children, Jim and Jane, were born in The Bahamas in 1978 and 1979, respectively. Of Robert living on the Island, Chris said, "He still managed to get hold of the obscure music he wanted, sending out carefully compiled lists of his latest favourites, and he still made sure the most-up-date equipment he needed to write his songs was flown in to order. Every now and then he made an album and set off for some travel around the world. It was a lifestyle that suited him.11"
Self-produced along with Tom Moulton, Double Fun in 1978 was a mixture of Caribbean influences and rock. Robert had traveled to Jamaica to work with Lee' Scratch' Perry on four songs, and 8 of them were done in New York. Robert said of Perry, "He just had this thing, a magic touch"12. Sadly, Robert felt that the tracks sounded "unfinished", and they weren't used on the album. The idea for the cover of Double Fun (Robert in a pool with two bikinis on the floor in front of him), came from a Japanese magazine cover and was shot by the fashion photographer Yasuhiro Wakabayashi.
Each album had built on the success of the last, and Double Fun was no exception. The single 'Every Kinda People' was a top 20 hit in the US. Written by ex-Free member Andy Fraser and recorded with Bob Babbitt on bass, Randy Brecker on trumpet, and Robert on guitar, it has become one of the most radio-played of Roberts songs worldwide.
Secrets, produced by Robert and released in 1979, was his fifth solo album and was recorded in the newly built Compass Point studios in Nassau. Robert picked a small band with Dony Wynn on drums, Frank Blair on Bass, and Jack Waldman on keyboards. The album, as diverse as ever, has island influences as well as a mixture of funk, soul, and rock. The cover for Secrets was inspired by the work of American visual artist Man Ray. The album did well in the US and Australia, and his version of Moon Martins' Bad Case of Loving You (Doctor, Doctor)', a remake of the Todd Rundgren song 'Can We Still Be Friends', and Jo Allen's 'Jealous' were all hits.
'Bad Case of Loving You (Doctor, Doctor)' earned him his first Grammy nomination for Best Rock Vocal.
Robert would go on to produce several tracks for Martin's Mystery Ticket album, and 'Bad Case of Loving You (Doctor, Doctor)' earned him his first Grammy nomination for Best Rock Vocal.
The self-produced 1980s album Clues went in a new wave direction, embracing new technology, with a rock edge coming to the forefront and synthesisers in the mix. It featured Gary Numan and Talking Heads drummer Chris Frantz on percussion (Robert returned the favour by playing percussion on the Talking Heads album, Remain In Light). The cover was another nod to an artist that Robert admired – the sci-fi illustrator Virgil Finlay. The album was a hit worldwide, charting in the US, UK, Sweden (where it reached no 1.), France, the Netherlands, and Italy, and going Gold in Germany and Australia. The video for 'Looking for Clues' aired on MTV on its first day of broadcasting and featured some of his children's toys.' Jonny and Mary', in the '80s and '90s and again in the 2020s, has been the soundtrack for Renault car commercial campaigns worldwide.
Robert was starting to produce more at this point and, in 1981, produced Desmond Dekker's album 'Compass Point', as well as 'Repeat Repeat', the third solo album by Peter Baumann. He was also always getting involved with other artists in the melting pot that was Compass Point studios and is credited as singing backup vocals on 'So Good So Right', on Joe Cockers Sheffield Steel in 1982, recorded there.
Maybe It's Live, released in the same year, was an album with a mixture of live tracks recorded at the Dominion Theatre in London and new studio recordings that included Robert's version of 'Some Guys Have All The Luck'. Robert believed he had written the song until he realised he must have heard it subliminally. His version was very different from the original and was a hit in the UK. This time the album cover was an image of Paul Wunderlich's 'Minotaurus', a sculpture Robert owned.
With the release of each album, Robert would go on tour,
"if you play in front of a live audience, they're not going to pretend. You can feel if you're going in the right direction."13
He was notorious for his gruelling tour schedule and would rather play at small venues that happened to be on the way in between big shows rather than have nights off. In his final interview in 2003 for Yorkshire TV, he said, "I carry Yorkshire traits that I inherited from my father, like a healthy work ethic, and straightforwardness".
Pride in 1983 was once again highly experimental, melding new wave electronics with the steel drums of calypso, funk, Rock, R&B, and African music. Robert worked with British synthesiser pioneer Rupert Hine after hearing his album Immunity. Highlighting the album's eclecticism, it concludes with 'The Silver Gun', a song Robert sings in Urdu. Robert said of the song, "I think that Pakistani vocalists are the most sensually romantic singers in the world (try Parween Sultana, Susha and Dilshad Khan) …
I learned the piece phonetically by studying over a dozen records and then had the results translated back into English.
Miraculously they made some sort of sense. It took six months to put the vocals together."14 The cover for the album was inspired by an illustration by Bert Kitchen.
In 1984, while Robert was making his next album Riptide, John and Andy Taylor of Duran Duran contacted him to see if he wanted to work with them. "Out of the blue one day, John sent me four minutes of an A minor groove and asked if I could think of a melody and a lyric. I really liked it. It was a holiday for me because I didn't have to produce or mix it."15 They sent Robert a cassette of songs, and Robert wrote the lyrics to them on the flight to New York to record with them. He had known John Taylor for a while, and they had previously discussed working together. Of the Power Station, Robert said,
"The chemistry was right from the word go and the whole thing soon escalated."16
Along with Tony Thompson and Bernard Edwards, they recorded the album at the New York studio 'The Power Station', where they took the name for their supergroup. When recording, Andy Taylor remembers Robert unknowingly gaining an audience when Mick Jagger and Jeff Beck started listening. "Robert proceeded to perform a very complex set of lyrics for 'Some Like It Hot'. Jagger started hopping about in excitement and we could see Jeff was impressed too. Soon more and more people started to trickle into the studio to listen to Robert, including Nile Rogers and the famous producer Arthur Baker. … 'Come on. Come listen to Robert Palmer sing,' was the word that went around the building."17 From the album, released in 1985, 'Some Like It Hot' and 'Get It On (Bang A Gong)', became big hits around the world, and the album was hugely successful.
After recording The Power Station, Robert returned to Nassau and Compass Point studios to finish recording Riptide, which was released the same year. He brought on Bernard Edwards to produce and play bass and Jason Corsaro to engineer. Andy Taylor and Tony Thompson collaborated, and Guy Pratt and Lenny Pickett played on the album, along with Eddie Martinez, Dony Wynn, Frank Blair, and Wally Baderou. Guy Pratt said,
Robert's enthusiasm for and sheer love of making music was astounding
"Robert's enthusiasm for and sheer love of making music was astounding, and I was really moved by the fact that such an established older artist – he was 33 to my twenty – with a direct line to the finest players in the world still had an eye open for what he called 'a kid with a riff'"18.
The result was an album with a firmer focus on rock, but still not without Robert's penchant for exploration, showing his interest in old standards with the title track, 'Rhythm and Blues' and with the dance track 'I Didn't Mean To Turn You On', going into metal territory with 'Flesh Wound'. 'I Didn't Mean To Turn You On' had been a hit for Charrelle the year before. Robert questioned that two men had written the song with this lyric for a young girl to sing in a provocative video. He thought it would be amusing to turn it on its head by having an older man sing it. It was a hit for Palmer too and earned him another MTV video music award nomination for Best Male Video.
'Addicted to Love' was initially meant to be a duet with Chaka Khan, but her record company stood in the way as they thought the song was too edgy, and the recordings were destroyed. Robert wrote the song in his sleep,
"It woke me up, I just dreamed the tune. I woke up and hummed it into my tape recorder. A lot of times when that happens, it's just nonsense. But in the morning I listened to it and I knew I'd caught one."
19 The song was nominated for three Grammys and won Best Rock Vocal Performance in 1987.
The music video became one of the most iconic of all time and was nominated for five MTV music video awards in 1986, winning Best Male Video. It has been imitated and parodied far and wide, from Weird Al Yankovic to Shania Twain, Shakira, Paula Abdul, and Britney Spears, and referenced in countless movies and TV shows. Robert continued the theme with the videos for 'I Didn't Mean to Turn You On' and 'Simply irresistible' and parodied it himself in the animated video for 'Change His Ways'.
Robert was often asked about the video and the models, and he always explained it was Terence Donovan's vision. Robert went in and sang in front of an empty 'green screen' with the models added separately. He had no idea what it would look like until he saw the finished article. He sat down to watch it with Chris Blackwell in Nassau, and Chris remembers – "It wasn't what I expected: the five models were in severe makeup, … They held their instruments like they weren't even going to pretend they knew how to play them and they twitched robotically, out of sync with the music. Which of course was what made the video so fantastic and, eventually, ironic. … He [Robert] stood out in front in his own limbo and sang it perfectly seriously with a straight face, while behind him, at a video distance, was this glorious indifference, five girls in their own world creating their own rhythms. We sat there a little open-mouthed and then both at once said 'It's unbelievable.' And really funny and sexy."20
On being number 1 in the US, Robert said, "It's akin to being a father, except that there's no long term responsibilities"21. The Album cover featured a close-up of Robert by Guiseppe Pino, and Robert's wife Sue is credited for the Art Direction. The album was hugely successful and propelled Robert to superstardom. It went Gold in the UK, Double Platinum in the US, and Triple Platinum in Canada.
After Riptide, Robert moved record label from Island to EMI and moved house from The Bahamas to Switzerland. Of Nassau, he said, "It's changed unbelievably. Because of the drug traffic, it now has the third highest crime rate in the world. It's a terrible place to bring up children."22
Heavy Nova, his next album in 1988, was again experimental, the title an amalgamation of 'heavy metal' and 'bossa nova'. It even includes Robert yodelling on a song with reggae and African vibes,' Change His Ways'. Prince had sent Robert a song out of the blue that he had written for him – 'Lust You Always'. Robert recorded it, but it didn't end up on the album, as Robert wasn't a fan of the lyrics. The single 'Simply Irresistible', went to no. 2 in the US and no. 1 in Australia and won Robert his second Grammy for Best Rock Vocal Performance in 1989. The intricately layered ballad 'She Makes My Day', was a hit in the UK and Australia The song was nominated for Best British Single at the 1989 Brit Awards, and Robert was nominated for Best British Male solo artist. The tour for the album included his first tour of the Far East, and in 1990 Rolling Stone voted Robert the best-dressed rock star of the year.
Robert's next album, released in 1990, took a different direction again. He described Don't Explain as "a science fiction version of High Society."23 It is a mix of rock, r&b, and jazz, and includes several original songs as well as covers of songs by Billie Holiday, Marvin Gaye, and Otis Redding, the kind of music he would hear on the radio growing up. Robert's cover of Bob Dylan's 'I'll Be Your Baby Tonight', recorded with UB40, and Marvin Gaye's 'Mercy Mercy Me' were both top 10 singles in the UK.
Ridin' High in 1992 was Robert's 11th Studio album and a departure from his other albums. It was an homage to the Big Band era and co-produced with Teo Macero, who had also worked on producing some Don't Explain tracks. Robert said of the album's making," I started recording it five years ago, and I've been recording it ever since. I chose the songs because of the lyrics, just what they were saying. I guess this is my first concept album."… "There was a lot of learning involved in doing it."… "Singing-wise, it bears very little resemblance to everything I'd learned. The vocals are under a microscope; there's nowhere to hide. All the years of rhythmic things that I've been involved with were very helpful, because the rhythm is more felt than stated. It sort of pulses in the tune. But then you're telling a story with a song, and the arrangement is… helping to tell the story, instead of you being sunk into the groove,"…
"It was all about telling the story with my own voice. It had nothing to do with nostalgia or with re-invoking a particular singer."
24 An accompanying film, Robert Palmer: Ridin' High, was filmed with the BBC Big Band and also released in 1992.
Roberts 23 year marriage to Sue ended in 1993, and she and Robert's two children moved from Switzerland to the UK while Robert continued to live in Switzerland. He had grown to love the freedom it gave him, as although regularly recognised, he wasn't mobbed or set upon by paparazzi as he was elsewhere, and he was able to live a relatively quiet life.
In the same year, Robert reformed with the Power Station, and they made the album Living In Fear. Robert, Andy Taylor, John Taylor, and Tony Thompson started working on the album, writing and arranging the songs, but John Taylor had to pull out at the last minute before the album was recorded, and Bernard Edwards, who was again producing, stepped in to play bass. Then before the album was released, Edwards died suddenly of pneumonia in Japan. The album was dedicated to him, and Robert, Andy Taylor, and Tony Thompson went on tour with Guy Pratt and Luke Morley stepping in as session musicians.
His next album, 1994's Honey, is filled with ballads, with 'Know By Now' and 'You Blow Me Away' charting in the UK. True to Robert's experimental form, it also contains two African music tracks at the start, 'Honey A' and 'Honey B'. In an interview at the time, Robert said," Honey A is mbira music – throat singing from Zimbabwe – and it segues into dorze, which is in two keys at once, (…) I wrote those two pieces in 1971, and they've sat on the shelf until now.
I wrote them at the time I spent six months with these two African drummers that doubled as a fire walker act and needed a singer.
We spent time rehearsing at Paco Rabanne's balloon factory, which he offered as an altruist as free rehearsal space for African musicians. It was an intriguing six months and some of the most fun I've ever had."25 Robert's girlfriend, Mary Ambrose, is featured with Robert on the cover (influenced by a painting by Alan Hydes) and is credited as a co-writer on the song 'Love Takes Time'.
Rhythm & Blues was released in Japan in 1998 and worldwide a year later. A collection of love songs, of the title Robert said, "I looked it up in a music dictionary and it says 'an American form with the emphasis on the backbeat' and that's what I love about it. It lets me explore melody and chords in a fairly conventional way but I can do it over African rhythm or whatever I like. I wanted to jettison my trademark shotgun approach. You know, one song was Bossa Nova, the next Heavy Metal, I wanted to do an album which you could put on and leave. I hope I have."26 Jim Palmer, Robert's son, plays percussion on the album, along with Mauro Spina. Robert produced it and recorded it in Milan with Pino Pischetola, who had been engineering on Robert's albums for some years.
Drive, released in 2003, was Robert's 14th and final studio album. In 2001 Robert contributed 'Milk Cow's Calf Blues' for the Robert Jonson Tribute Album Hellhound On My Trail. At the same time, Faye Dunaway asked Robert to create the soundtrack for her directorial debut of Tennessee Williams' The Yellow Bird. These two things inspired Robert to record the Drive album, a collection of Delta Blues and gritty early rock" n' roll songs. It features Jim Palmer on drums and percussion and Carl Carlton on guitar. It came out to great critical acclaim and went to no. 10 on the US Blues album chart.
Robert was just beginning promotion for the album when he died suddenly of a heart attack in Paris on September 23rd, 2003, just a few months after the album's release. Just 54 and in good health, it was a great shock to his family, fans, and all who knew him. He was survived by his parents, Anne and Les, his brother Mark, his children Jim and Jane, his girlfriend Mary Ambrose, and his ex-wife Sue.
He is remembered for his vast musical knowledge, his unforgettable voice, and the extraordinarily diverse catalogue of music that he leaves behind. He lived and breathed music, and he got to do what he loved and never stopped.
Jane Palmer, June 2023
1, 15, 22 Robert Sandall (Q – July 1988)
2  Fred Shuster (L.A. Daily News – 1996)
3, 4, 20 Chris Blackwell (The Islander, 2023)
5 (L.A. Daily News – 1996)
6,7 Daryl Eastlea, (Liner Notes, Robert Palmer The Island Record Years, September 2022)
8 Tony Stewart, (NME in 1976)
9,10,11 Chris Blackwell (The Islander, 2023)
12, 25 Nick Krewen, (1994)
13 Ken Short and Peter McAulay  (Pride Tour Programme – 1983)
14 Robert Palmer (Addictions Vol 2 sleeve)
16 Kerry Doole (Rip It Up – Avril 1985)
17 Andy Taylor (Wild boy, My life with Duran Duran)
18 Steven Dougherty (People Magazine – 1986)
19 Steven Dougherty (People Magazine – 1986)
21 Robert Palmer (International Musician and Recording World, Oct 1986)
23 R.S. Murthy (New Straits Time Singapore – March 1989)
24 Keith Tuber (Orange Coast Magazine – 1993)
26 James O'Brien (The Sunday Express – March 1999).